Geometric Patterns that Have Hexagonal and Square Fictions and Methods of Analysis in Mimar Sinan Mosques (Example of Şehzade, Süleymaniye and Selimiye Mosques)

Abstract views: 436 /

PDF downloads: 1036
Keywords:
Geometric pattern, , crystallography, polygonal, swastika
Abstract
Besides there are so many studies about geometric decoration applications,
which exist especially in architectural works in almost all around the Islamic
geography; these studies are insufficient about considering the alteration of their
geometric compositions according to their geographic diversity and
mathematical progress throughout the Islamic history. This situation is in contradiction with the wealth of geometric decoration on the architectural works
that they possess. Aim of this article is to call attention to methods of pattern
production and to conduce to make compositional analyses in next scientific
studies, which includes geometric pattern, with reference to these production
principles. This article, in addition, aims to flash on different analyses on unit
cells that have hexagonal and square fictions, which applied in classical
Ottoman artworks. In this article, it is presented that the geometric pattern
applications, which have rich diversity in also artworks of Ottoman classical
period, applied where and in which compositions. It is worked out, by
comparing to pre-Ottoman period, how the pattern applications codified. It is
included analyses of some interesting patterns, which were composed with
reference to the unit cells, through Şehzade, Süleymaniye and Selimiye
Mosques
References
ABAS, S. J.; SALMAN A. S., 2007, "Symmetries of Islamic Geometrical Patterns", World Scientific, Singapore.
ARIK, M.; SANCAK, M., 2007, "Pentapleks Kaplamalar", TÜBİTAK, İstanbul.
ATALAY, B., 2006, "Matematik ve Mona Lisa", (Çeviri Özge Özgür, Kosta Sarıoğlu), Albatros, İstanbul.
BAKIRER, Ö., 1981, "Selçuklu Öncesi ve Selçuklu Dönemi Anadolu Mimarisinde Tuğla Kullanımı", ODTÜ Yayınları, c. I, Ankara.
BARRY, M. R.; MICHAUD, S., 1996, Colourand Symbolısm In Islamic Architecture, Thamesand Hudson, London.
BOZER, R., 2007, "Süleymaniye'nin Ahşapları", Bir Şaheser Süleymaniye Külliyesi, (ed. Selçuk Mülayim), T.C. Kültür ve Turizm Bakanlığı Yayınları.
BURCKHARDT, T., 1976, "İslam Sanatı", Turan Koç (çev.), Klasik Yayınları, İstanbul.
CASTERA, J. M., 1999, "Arabesques Decorative Art in Morocco", ACR, Paris.
DEMİRİZ, Y., 2004, "İslam Sanatında Geometrik Süsleme", Yorum Sanat, İstanbul 2004.
DEMİRİZ, Y., 1979, "Osmanlı Mimarisinde Süsleme I Erken Devir (1300-1453)", Kültür Bakanlığı Yayınları, İstanbul.
DOĞANAY, A., 2011, "Osmanlı Tezyinatı Klasik Devir İstanbul Hanedan Türbeleri 1522-1604", Klasik Yayınları, İstanbul.
FİELD, R., 2004, "Geometric Patterns from İslamic Art & Arthitecture", Tarquin Publications, England.
KAYILI, M., 1989, "Sinan Eserlerinde Akustik", VI. Vakıf Haftası Türk Vakıf Medeniyeti Çerçevesinde Mimar Sinan ve Dönemi Sempozyumu 5-8 Aralık
, Vakıflar Genel Müdürlüğü Yayınları, İstanbul.
KUBAN, D., 2008, "Selçuklu Çağında Anadolu Sanatı" YKY, İstanbul.
MAJEWSKİ, M., 2011, "İslamic Geometric Ornaments in İstanbul", Poland.
MEMMEDOV, H.; EMİRASLANOV, İ.; NECEFOĞLU H.; MÜRSELİYEV A., 1996, "Nahışların Yaddaşı", Türk Dünyası Araştırmaları Vakfı, İstanbul.
MÜLAYİM, S., 1982, "Anadolu Selçuklu Mimarisinde Geometrik Süslemeler", Kültür ve Turizm Bakanlığı Yayınları, Ankara.
NECEFOĞLU, H., 1994, "Selçuklu Mimarisinde Kristallografik Nakışların Yeri", III. Selçuklu Kültür ve Medeniyeti Semineri Bildirileri, Konya.
NECİPOĞLU, G., 1995, "The Topkapı Scroll-Geometry and Ornament in Islamic Architecture", Santa Monica.
ŞEN, H., 2013, "İslam Sanatında Geometrik Desenler", Türk İslam Medeniyeti Akademik Araştırmalar Dergisi, Türk İslam Medeniyeti Akademik Araştırmalar Enstitüsü, Konya.
WELLS, D., 1998, "Geometrinin Gizli Dünyası", Selçuk Alsan (çev.), Sarmal Yayınevi, İstanbul.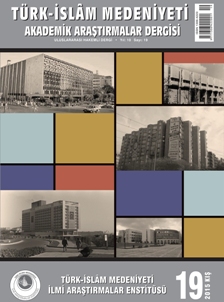 Downloads
How to Cite
EKİZLER SÖNMEZ, S., & DOĞANAY, D. A. (2015). Geometric Patterns that Have Hexagonal and Square Fictions and Methods of Analysis in Mimar Sinan Mosques (Example of Şehzade, Süleymaniye and Selimiye Mosques). Türk İslâm Medeniyeti Akademik Araştırmalar Dergisi, 10(19), 87–108. Retrieved from https://timad.com.tr/index.php/timad/article/view/35
License
Copyright (c) 2015 TÜRK-İSLAM MEDENİYETİ AKADEMİK ARAŞTIRMALAR DERGİSİ
This work is licensed under a Creative Commons Attribution-NonCommercial 4.0 International License.