The Effect of Universal Design and Ergonomics on Urban Space; The Case of Eminönü – Sirkeci
Keywords:
Public space, universal design/ design for all, ergonomics, accessibility, Eminönü – Sirkeci
Abstract
The principles for designing the urban built environment or open araes should be user-friendly. In this context, the "universal design" approach is based on the principle of accessibility to services in public spaces and it searches how all people can benefit from urban equipment elements in equal or similar circumstances. Urban ergonomics are concerned with people and the open areas of the city they live in. Accessibility means that every individual living in the city can access all public services and spaces. This study; it covers universal design principles in terms of urban space, development of disabled people's usage rights and ergonomic design approaches. In addition, the selected study area is Sirkeci and Eminönü Squares and its immediate surroundings; the use of public spaces, practices that create barriers to physical access to disadvantaged groups, deficiencies in ergonomic design have been identified and suggestions have been developed.
References
Akın G., Önal S. (2016). Kentsel Alanların Tasarımında Ergonomik Sorunlar, AÜDTCF, Antropoloji Dergisi, Sayı:31, s.55-56.
Bakan K., Konuk G. (1987). Türkiye'de kentsel dış mekânların düzenlenmesi. Tübitak Yapı Araştırma Enstitüsü Yayın No.U5.
Çağlar, S. (2012). Engellilerin Erişebilirlik Hakkı ve Türkiye'de Erişebilirlikleri. Ankara Üniversitesi Hukuk Fakültesi Dergisi, Sayı:61, s.543, 549, 558, 587.
Doğan C., Altan O. (2007). Kamusal alanda oturma eylemi ve ergonomik ilkeler. Megaron, YTÜ Mim. Fak. E-Dergisi YTÜ Arch. Fac. E-Journal Cilt 2, Sayı 3.
Dostoğlu, N., Şahin, E., Taneli, Y. (2009). Tasarıma Kapsayıcı Yaklaşım: Herkes İçin Tasarim, Mimarlık Dergisi, Sayı 347.
Engelliler Hakkında Kanun. No:5378, Kabul Tarihi:1.7.2005, https://www.mevzuat.gov.tr/MevzuatMetin/1.5.5378.pdf.
Fatih Belediyesi, Stratejik Plan 2020-2024 Dönemi, www.fatih.bel.tr (2.05.2021).
Gehl, J., (2020). İnsan İçin Kentler. Koç Üniversitesi Yayınları:229, İstanbul s. 109.
Güler, Ç. (2006). "Kent Ergonomisi", Kent ve Sağlık Sempozyumu (07/09 Haziran 2006, Bursa): Bildiri.
Güremen L., (2011). Kent Kimliği ve Estetiği Yönüyle Kentsel Donatı Elemanlarının Amasya Kenti Özelinde Araştırlması, e-Journal of New World Sciences Academy Volume:6, Number:2.
Hatırnaz, A. A. (2019). Ergonomi Çerçevesinde Eşitlikçi Mekân Üretim Yaklaşımı Olarak "Evrensel Tasarım" Kavramı. Ergonomi, 2(3), 178-193.
Kaplan, H. (2007). Kentsel Mekanların Erişebilirliği ve Okunaklılığini Sağlamada Kentsel Tasarımın Bir Bileşeni Olarak Engelsiz Tasarım, TMMOB Mimarlar Odası, Bülten 46, Ankara, s.51-52.
Kaplan H., Yüksel Ü., Gültekin B., Güngör C., Karasu N., Çavuş M. (2010). Yerel Yönetimler İçin Ulaşılabililik Temel Bilgiler Teknik El Kitabı, T.C.Başbakanlık Özürlüler İdaresi Başkanlığı Yayınları, Yayın No:49, Ankara, s. 1-5.
Keleş R. (1980). Kentbilim Terimleri Sözlüğü, Türk Dil Kurumu Yayınları.
Meşhur, H. F. A., Tekin, M. (2018). Evrensel Tasarım Yaklaşımının Şehir Planlama Disiplini Bakış Açısı ile Değerlendirilmesi. Online Journal of Art and Design, 6(5), 94-111.
Mülayim A., Azsöz P.G. (2020). Tekerlekli Sandalye Kullanan Engellilerin Sosyal Hayata Katılımında En Büyük Engel; Yapılı Çevrede Yaşanan Problemler Ve Çözüm Önerileri, Sosyal Politika Çalışmaları Dergisi, Erişilebilirlik Özel Sayısı Cilt-2, s.363-378.
Schäfers, M., Welti F., (2021) Barrierefreiheit – Zugänglichkeit – Universelles Design. Zur Gestaltung teilhabeförderlicher Umwelten, Bad Heilbrunn: Verlag Julius Klinkhardt, s.167.
Tabrizi, S. M. A. A., Ergenoglu, A. S. (2017). Monitoring model for universal design in educational facilities. New Trends and Issues Proceedings on Humanities and Social Sciences, 3(3), 291-301.
Tandoğan, O. (2017). Evrensel tasarım kavramı: kentsel peyzaj ile ilgili örnekler. Artium, 5(2), s.51-66.
T.C. Cumhurbaşkanlığı Mevzuat Bilgisi, Büyükşehir Belediyesi Kanunu No:5216 , Kabul Tarihi:10.7.2004.
T.C. Cumhurbaşkanlığı Mevzuat Bilgisi, İmar Kanunu No:3194, Kabul Tarihi : 3.5.1985.
Yıldız, N. (2018). Engelliler için Erişilebilirlik Kavramının Kentsel Ergonomi Bağlamında Değerlendirilmesi, SETSCI Confrence Indexing System, Volume 3, 416-424.
web 1 http://www.engelliler.biz/bulent/kentsel_ergonomi_ve_ulasilabilirlik.doc (2.06.2021).
web 2 (2013). Erişilebilirlikte Evrensel Tasarım ve Sürdürülebilirlik, http://www.ekoyapidergisi.org/212- erisilebilirlikte-evrensel-tasarim-vesurdurulebilirlik.html (27.08.2021).
web 3 (1997). Evrensel Tasarımın İlkeleri https://projects.ncsu.edu/www/ncsu/design/sod5/cud/about_ud/dprin ciplestext.htm (28.03.2021).
web 4 (2021) Engelli Ücretsiz Ulaşım Hakkı, www.engelli.com (7.04.2021).
web 5 (2014). Evrensel/Engelsiz tasarım, http://www.slideshare.net/saljufoal/evrensel-tasarım (10.07.2021).
web 6 The 7 Principles/Centre for Excellence in Universal Design, (http://universaldesign.ie/What-is-Universal-Design/The-7-Principles) (24.04.2021),
web 7 (2020). (https://www.stgm.org.tr/erisilebilirlik-duzenlemeleriniotelemek-engellileri-otekilestirmenin-diger-adi) (8.04.2021)
web 8 Universal Design, (http://universaldesign.ie/What-is-UniversalDesign/The-7-Principles (https://de.wikipedia.org/wiki/Universal_Design) (18.07.2021)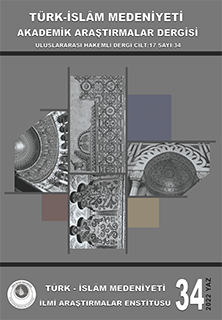 Downloads
How to Cite
ULUSAY ALPAY, B. . (2022). The Effect of Universal Design and Ergonomics on Urban Space; The Case of Eminönü – Sirkeci . Türk İslâm Medeniyeti Akademik Araştırmalar Dergisi, 17(34), 253–272. https://doi.org/10.5281/zenodo.6468560
License
This work is licensed under a Creative Commons Attribution-NonCommercial 4.0 International License.